Memorial Day: May 27 Closed
Vacation: June 3 - 7 Closed
Independence Day: July 4 Closed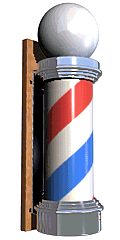 Welcome to our website, it's now easier than ever to setup your next hair cut appointment online. Just visit our homepage and fill in the form to get started. You must select a date and time. If the time is available, you will receive an email to confirm your appointment. Once you confirm you appointment. All you need to do is show up to the barber shop.

Online Schedule your appointment today!
No Credit Card / Cash Only
(202) 554-2891
Call Us Schedule Today...